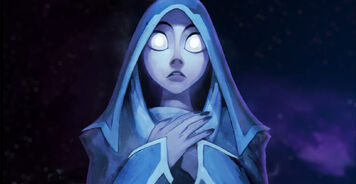 Introducing a gruesome new zone, The Defile, a vast new sprawl of acreage for you to explore! A monumental new boss, The Dreadwatcher, awaits you! An all-new public event, The Dread Traverse, that culminates in the most pivotal reveal in the history of world stories! Scale the Lightspire! Blind the Black Focus! Rekill a pesky Phagelord! And loot stuff!
Dead or alive, you or your corpse will concur that The Defile is the beginning of the end... of the beginning. Prepare yourself for The Nexus Saga... This world's story is all about you. Well, parts of you. Kinda.
Community Q&A
The update is finally here and we are heading out with you into the new zone with the intent of finding out once and for all, who is the Entity and why is Drusera afraid?
We here at WildStar Wikia are interested to know if any of you in the WildStar Community have any questions specifically about the update that we can help answer for you or bring to the developers at Carbine Studios. We are also curious about what you feel is the current state-of-the-game and what you would like or expect to see happen in the future. Please keep your comments to the point as much as possible and post them below.