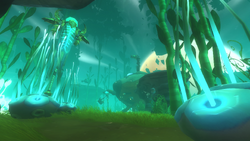 Character's name:Soupy
Server:Warhound (Previously Bloodsworn)
Faction: Exiles
Crib name:Seafloor Salvage 0016

What was the inspiration for your crib?
I wanted to make something mysterious and haunting. Reminiscent of the song The Carnival of the Animals: The Aquarium
What was the hardest part of making your home?
Spending the equivalent of a good 2 months CREDD worth of gold on Purple Rock Arches to make the bio-luminescent cavern.

What item or plot were/are you most looking forward to getting?
I reeeeeally want to get a Prospector's Plot FABkit. I've got a pine forest/campground plot that it would be perfect for but really I'd like one just to see it. I have never seen or heard of anyone having one drop for them much less actually putting one on their property. It is my white whale.
Of all the Decor items or FabKits you have seen or used, what is your favorite?
I like the Whirlwind FABkit a lot. The one with the tornado where you have the crystal grabbing challenge. It's fun and has good prizes that everyone wants.
If you could have one item in your house or on your plot that you have NOT seen, what would it be?
Individual item? Nothing's coming to mind, but I would really like to be able to change the music at my plot. Like, really.
---
If you would like to see your crib featured, head on over to our forum and submit today!